Rockledge Park
Rockledge Park is your place for Fun and Adventure! Rockledge Park is a Recreational Park nestled in the corner of the Grapevine dam off of Fairway Drive since 1952. Rockledge Park is a city park owned by the City of Grapevine. Located on the cliffs of Lake Grapevine, this park offers beautiful views of the sunset and of Lake Grapevine.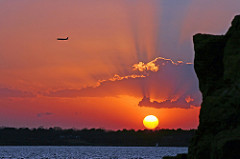 Many visitors love to enjoy the many types of birds and wildlife that the park attracts due to natural features. Since this park is located away from most major boater and recreational lake traffic, there is a large abundance of rare wildlife that frequently visits the park. On occasion there has been a spotting of a Golden Eagle. Keep your eyes open, we do have sightings of coyotes and bobcats! Our bobcat that is sometimes seen in the mornings is "Bobi".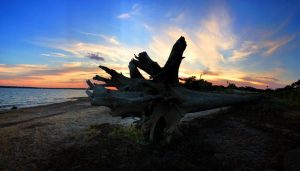 There is much to do at Rockledge Park. Most visitors enjoy hiking or biking the Northshore Trail which stretches 23 miles along the north shore of Lake Grapevine. Park Maps and Trail Maps are available inside of the Park Store. Other visitors will rent Kayaks or Paddleboards and explore around the scenic "Rockledge" coves.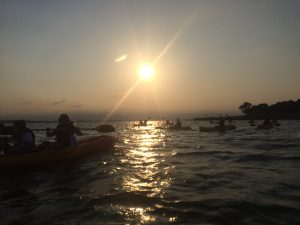 There are also over 60 picnic pavilions to choose from to provide your friends and family a nice relaxing place to hang out next to the water. Most of the pavilions are shaded with BBQ grills. All guests are encouraged to bring their own BBQ if they would like. Canopy tents and day shade tents are also a popular option. Hammocks are allowed as long as the support ropes are taken down upon exit of the park. The views here at Rockledge are one-of-a-kind. Many park guests will arrive early to get the best views!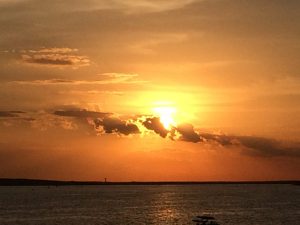 Many visitors say that the views here remind them of another country.
We are located on the border of the City of Grapevine and Flower Mound.
---
Rockledge Park
Phone: 817-454-1058
Address:
3600 Pilot Point, Grapevine, TX 76051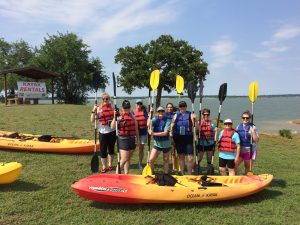 Reserve Kayaks, Paddleboards and Hiking Tours
---
Rockledge Park has much to offer, including these features:
Kayak Rentals
Hiking Tours
Biking Trails
Fishing Spots
Picnic Pavilions
Scenic Views
Private-Party Pavilion Rentals
Private Photo-shoot Sessions
Bathroom Facilities
Swimming Areas
Freshly Brewed Coffee
General Store
Live Bait
Special Events
Snacks and Refreshments
Rockledge Park is the main trailhead access point for Northshore Trail.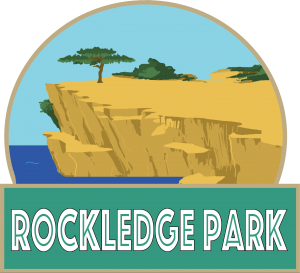 ---
Looking for a Private Event Venue?
Jackson Pavilion
If you would like to reserve Jackson Pavilion for a private event, you may do so by contacting this number 817-455-5314